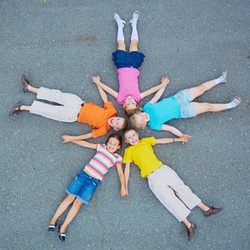 Entwined is the first track on my new Extended Play release called, "View From Here." This song is about love, and friendship, and about being there for someone through thick and through thin. I wrote the song after finding love a little bit later in my life.
"I'm right here, beside you. I've been here all the time. And when you're through searching, you'll find your hand in mine."
I love those lines! When you bond with someone, whether it is through love OR friendship, I believe that part of your energy stays with them. Even when you are not together, you are still supporting, helping and carrying them through their journey.
I sang Entwined at my recent Bite of Oregon show as a tribute to Special Olympics. I worked with two fantastic Special Olympics athletes, Andy and Katie. They joined me on stage to sing the chorus, and they both did a spectacular job. I was honored to have them on stage with me. They were funny and talented performers! They gave the song new depth, and I treasure the memory.
It is also worth note to say that I had some people listen to the tracks prior to deciding on an order for the CD. My friend, George Mitchell, gets credit for Entwined being the first track on the CD. He is the piano GOD to the Ms. Diana Ross and he also played on my first CD. He thinks this is the best track of the bunch. I also get to scat on the end, which makes us both happy!
It is a fun side-note to say that this is the one song my dog, Tess, knows by heart. If she hears a recording of the first opening piano section, she immediately sits up and starts singing along! This can be challenging if rehearsal is at my place, but still fun.
I LOVE IT when the audience sings along with this song! For me, this song builds an invisible bridge in between the stage and the audience, and it is a hugely rewarding experience to perform this song live.
So if I get to see you at a show - sing LOUDLY on this song called, #Entwined!
Read the Lyrics Here:
View From Here Lyrics
Oct 3, 2015 CD Release Party Tickets:
Click Here
#pdxjazzsinger #entwined #viewfromhere #pdxjazz #jazz