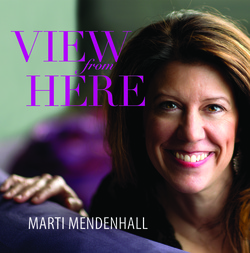 People keep asking me, "What's this CD about?" Well first things first! The title of the CD is "View From Here." Second, technically it's an EP, which stands for Extended Play. An EP has fewer tracks than a CD. There are many advantages to creating an EP, and I'll go into that on another day.
There are five tracks: 1. Entwined, 2. Rain, 3. View From Here, 4. Never Too Late, 5. Words Last. I think one word that sums it is all up is #PERSPECTIVE. Each track is about looking at life from a different perspective, loss, triumph, love, friendship, seizing the moment. Life has quite a different View from each of these emotions. We all go through good times, and bad.
Many of the lyrics on this CD are about seizing life, keeping #HOPE alive, and seizing the moment. It is truly Never Too Late to say the things you need to say to someone, whether it's love, or solving an old argument to bring peace, or letting something go to move forward, or to find #LOVE. It doesn't matter how old or young you are. We can all choose how we feel in the moment. I feel inspired just reading the lyrics over again. You can read them, too!
http://martimendenhall.com/lyrics
I'd like to Invite you ALL to my BIG CD Release Party! It's Saturday, October 3rd, 2015 at Mazza's in Portland, 3728 NE Sandy Blvd, right off of I-84 at 28th and Sandy. I have hired COOLEY for ROCKSTAR pre-show entertainment starting at 7 PM, and the Doors open at 6:30 for drinks. Tickets are $10 for the lower-level, and $12 for the upper level next to the stage. It's a smaller venue, with video screens of the stage on the lower levels for added visibility, which is pretty cool. Come and be INSPIRED! Check out this show and music from this CD!
Tickets:
http://martimendenhall.ticketleap.com/marti-mendenhall-cd-release-party/
#pdxjazzsinger #viewfromhere #cdreleaseparty #pdxjazz #jazz