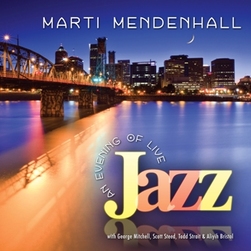 Listen Now! Click Image for Music Store
On October 29th, 2011, five amazing Jazz musicians took the stage for a benefit concert and the recording engineer captured it all in one single concert performance. This CD is the real deal with no over-dubs or clean-ups commonly used in live recordings.
Quote from the concert press release: "Marti's silky vocals seamlessly weave together in jazz, standards, be-bop, vocal improvisation and swing styles... The audience will feel the rhythmic spontaneity of Ella Fitzgerald, the deep warmth of Nat King Cole and the twilight swing of Mel Torme through Marti's rich vocals."
Of the twelve songs performed, three are original from singer, Marti Mendenhall: Believe, Book of Love, and Brasilia. This is the first recording of Believe and Book of Love, while Brasilia continues to be performed at Jazz festivals and competitions every year.
The creative team behind the final mix included recording engineer Steve Branson. Steve has a lengthy resume of audio mixing for live concerts and recordings. Steve has mixed for Sonny Rollins, Chick Corea, Don Cherry, toured with Dion and Donna Summer, Frankie Valli, Curtis Salgado and Robert Cray. Steve was the audio engineer who recorded the Grammy-nominated Robert Cray concert, Live From Across the Pond at the Royal Albert Hall.
Some passages from the CD liner notes by Jazz critic and historian Tom Cunniffe: "For the concert, Marti assembled an outstanding group of supporting musicians. George Mitchell is a Portland native who has worked with Richie Cole, Sonny Stitt, Eddie Harris and Jon Hendricks. For the last two decades, he has been Diana Ross' first-call pianist. Bassist Scott Steed has performed with Diane Schuur, Dawn Clement and Nancy King. Todd Strait was Karrin Allyson's percussionist for many years, and he has performed on over 100 albums, including discs by Bill Charlap, Mike Metheny and Jay McShann. Together, these fine musicians offered a cohesive group sound behind Marti's featured vocals."
"The program opens with Destination Moon, a lesser-known swinger by Roy Alfred and Marvin Fisher (the latter also co-wrote the cool vocalist's anthem, "When Sunny Gets Blue"). Marti is a true soprano, and both her theme statements and her scat solo lie in the middle to upper range of her voice. Her scat has a trumpet-like clarity, and her improvised ideas are based in a strong knowledge of jazz harmony. Believe is an original ballad by Marti, and she sings the deeply personal lyrics with heartfelt emotion. The hip and sassy Book of Love is another of Marti's originals. Listen to how the backbeat is generated equally from Todd's swinging hi-hat and Marti's rhythmic delivery.
"Dave Lambert's Halloween Spooks adds background vocals from Aliyih and sound effects by the band and the concert audience. Marti's spooky scat solo, the audience's participation, and Mitchell's synthesizer sounds all add to the Halloween atmosphere. Love Song for a Vampire continues the Halloween theme, but Marti's beautifully controlled performance makes us focus on Annie Lenox's lovely wide-ranging melody. Marti co-wrote the tropical flavored Brasilia with Joe Herbert, a member of Groove Society and another UNC alumnus. The band generates a great groove on this track, inspiring another superb scat solo by Marti, and fine solos by all of the rhythm section.
"For me, the highlight of the program is Marti's medium-tempo treatment of Angel Eyes. The voice and bass intro sets a hip mood, and while this song is usually performed as a slow ballad, Marti's rendition of the melody makes it a perfect fit for this grooving tempo. She develops her improvised solo like an instrumentalist, digging deep into the tune's harmonies and creating a beautifully structured musical statement.
"This is Marti's first CD as a leader, and it is a mark of her confidence that she opted to release a live concert as her debut album. Yet, the musical quality of the recording proves that she was right to do so. Let's hope that this album marks the beginning of a bright career for Marti Mendenhall."
To capture the vitality and resonance of the amazing album, the producers selected a twilight, cityscape shot of Portland, Oregon with the Hawthorn Bridge in the foreground by Jared Ropelato Photography.
Back to CD Reviews
Download the Album Here