Nick DeRiso CD Review, Something Else Rviews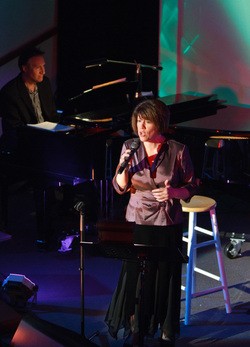 Most performers are wary of live discs, this typically unforgiving setting that can reveal as much of the bad as it does the good. Fewer still are brave enough to choose a concert date as their recorded debut.
Marti Mendenhall, the Oregon-based jazz soprano, is not most performers. And her new release, straight forwardly called An Evening of Live Jazz, illustrates why.
Fronting a talented, deeply credentialed trio, Mendenhall comes sauntering out with the cool and collected "Destination Moon." Together with pianist George Mitchell, the Portland native who's worked with Sonny Stitt, Diana Ross and Eddie Harris among others, they set an early tone – perhaps best described as cocktail bop. Her initial scat is soft and yet inch-perfect, very much like Ella Fitzgerald, or Annie Ross in her quieter moments.
Up next is a pair of originals, the first of four – always a rarity on a jazz singer's album, and another early signal of Mendenhall's serious approach to these fun sounds. "Believe," a touching ballad, strips away every emotional defense, allowing Mendenhall to explore the full range of her vocal instrument. Bassist Scott Steed, who has performed with Diane Schuur and Nancy King, offers a contemplative solo that works in perfect counterpoint. "Book of Love," meanwhile, quickly ramps back up into a jaunty rhythm, as Mendenhall unleashes a sweetly swinging coo that recalls Nancy Wilson's 1960s triumphs with George Shearing.
The disc doesn't mention the recording date, but a trio of goblin-themed songs – two of them performed back to back – suggests that it might have been around Oct. 31. Dave Lambert's "Halloween Spooks," an audience participation number, is one of two tracks on An Evening of Live Jazz composed by a member of the seminal vocalese group Lambert, Hendricks and Ross. Mendenhall moves with confidence and skill through the familiar sounds of ghostly intrigue, even as Mitchell – who it's important to note, has also worked with Hendricks – brings a brisk confidence to the number. "Love Song for a Vampire" belies its spooky theme with a deeply felt performance from Mendenhall. Later, there's "Sarah's Hushabye," an echoing moment of twilight creepiness composed by Mendenhall based on a pair of themes from children's movies.
The undulating polyrhythms of "Brasilia," another Mendenhall original (this time co-written with Joe Herbert), provide the best showcase yet for drummer Todd Strait – the longtime Karrin Allyson sideman who's appeared on countless albums with the likes of Bill Charlap, Jay McShann and others. Mendenhall leaps out next with a blistering series of rapid-fire vocal improvisations, each of them hip and propulsive, on Alec Wilder's "All the Cats Join In" – a variation on Benny Goodman's rousing "Sing, Sing, Sing" written specially for the group's soundtrack appearance in the 1946 Disney film "Make Mine Music." She then sways and winks her way through "Bennies from Heaven," a cute parody of the familiar American Songbook theme made famous by Eddie Jefferson.
Matt Dennis' ageless "Angel Eyes" follows, and it's a triumph. The brilliance of Mendenhall's work here is balancing both the emotion of the track and its high-flying improv segment – not always an easy thing since the vocalese portions can take a song just as far afield as a wayward horn solo, and the singer has to manage the return trip herself. Mendenhall modulates perfectly from Dennis' quietly devastating opening theme, into its more robust mid-tempo verse, across a dizzying run through her upper range during the improvisation and then – in a moment that must have left her audience out of breath, too – right back into the song's deftly conveyed slow descent.
Back up singer Aliyih Bristol then steps to the fore as a worthy foil on "Everybody's Boppin,'" the Jon Hendricks favorite, before Mendenhall closes with a spritely encore take on Shearing's "Lullaby of Birdland." In a final show of her firm grasp on both the history of this music, and her own smart entry into it, Mendenhall pays direct tribute to the memorable 1955 version of this tune done by Mel Torme with Marty Paich – even as she makes it her own.
And then, of course, the crowd goes wild. You will, too.
Review by Nick DeRiso
Rating: 4 Stars (out of 5)
Read the Original Review at
www.somethingelsereviews.com
Tell Your Friends - Share on Facebook and Twitter
Author: Nick DeRiso
Nick DeRiso has explored jazz, blues, roots and rock music for Gannett News Service and USA Today, Blues Revue Magazine, AllAboutJazz.com, Rock.com, Popdose, Living Blues magazine, the Louisiana Folklife Program and NoDepression.com, among others. As a longtime newspaper editor, he was named columnist of the year five years in a row between 2003-07 by the Associated Press Managing Editors of Louisiana/Mississippi, the Louisiana Sports Writers Association and the Louisiana Press Association. DeRiso, who oversaw a daily publication that was named Top 10 in the nation by the Associated Press in 2006, also worked for a decade in radio, and has owned his own live music venue.