Stacy Riley CD Review, Jazz History Online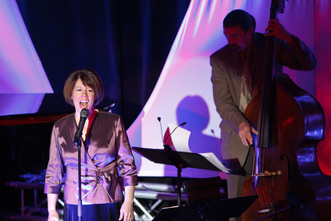 Marti Mendenhall is a classical and jazz vocalist from Portland Oregon, who has been working towards her first solo CD for many years. That CD, "An Evening of Live Jazz", was all recorded from a single live performance. A true soprano, she flies on high notes through improvised jazz solos with ease and inspiration, her voice like a beaming trumpet. Mendenhall's classical roots and vibrato come through during her lyrical delivery. Her expression is akin to a pop or musical theatre style, which is especially evident when she belts in her high range. The CD has the feel of a variety album with a wide range of styles. "Halloween Spooks" has a relaxed groove, resting on walking bass, paired with a quirky spookiness. The incorporation of sound effects, coming from the band and the audience, adds flavor and fun. The key works with Mendenhall's high voice, bringing the cackling witch-like character to life. I appreciate Mendenhall's openness to fun and silly subject matter, which makes her accessible, likable, and playful.
"Brasilia" is a Latin tune written by Mendenhall. The lyrics are generally unsophisticated, but it contains the exceptional line, "I have so many memories of someone I've yet to meet." This poetic moment simply and eloquently expresses how our imaginations can be so vivid that the images and scenarios they conjure are like actual memories. Drawing from her childhood memories, Mendenhall and arranger Adrian Baxter created the haunting marriage of two children's songs, "Hushabye Mountain" and "Sarah's Theme." It is an entrancing change-of-pace. Mendenhall truly shines on "Angel Eyes." Her improv juices are flowing, and she executes her solos with tasty note choices that work well in her high tessitura. George Mitchell provides solid accompaniment and a melodic solo on piano. This is the longest tune on the album, but feels like the shortest, and it is also my favorite track on the album. "Everybody's Boppin'" gets us dancing in our seats, and includes another winning scat solo. Scott Steed's bass solo was also strong - melodic, clear, and interesting. The drum solo by Todd Strait is exceptional. He grooves hard without pushing, and maintains an easy sound. This recording is a promising debut by Mendenhall, including a wide range of moods. I look forward to her future endeavors.
Review by Stacy Riley
Read the Original Review at
www.jazzhistoryonline.com
Tell Your Friends - Share On Facebook and Twitter
Stacy Riley is a performer in various arts, including music, theatre, television, and voice-over. Her interest in music is wide-ranging, but she currently focuses on vocal jazz. Stacy will be attending the University of Denver (DU) - Lamont School of Music in Fall 2012 to earn her Master's Certificate in Vocal Performance - Jazz. She started writing in high school, when she attended the Mott Writer's Conference and won first prize in the Short Story category. She has since written pieces on a number of topics, ranging from poetry, song lyrics, animal rights, and environmental issues to research studies in Psychology. Stacy is excited to combine her love of jazz and vocal performance with her interest in writing by contributing to Jazz History Online.